Introduction to the Vertical Harold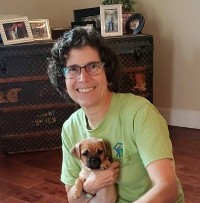 Do you like to watch and perform the Harold?  A few years ago, the group Heyday, out of Los Angeles under the direction of Karen Graci, developed a new way to look at the Harold. This workshop will provide you with the basic elements of the Vertical Harold to give you a taste of this really fun new form. It doesn't matter if you have none, some, or lots of Harold experience, this will give you some new tools that you can use in any form. Come on down and try something new that can spice up your improv game!
Laurie Shellenbarger has been improvising since 2011.  She is a graduate of Second Beat, The Torch Theatre, and has attended numerous workshops and Camp Improv Utopias.  It was at Camp Improv Utopia Yosemite where she studied the Vertical Harold with Karen Graci and fell in love with the form. Laurie has taught Introduction to Improv workshops at Second Beat and the Torch Theatre, as well as corporate workshops, and has even facilitated improv workshops on a cruise ship.
Experience Level: Basic knowledge of the Harold
Instructors: Laurie Shellenbarger and Camille Hartmetz
Price: $25
Class size: 10
Date/Time
Sunday, March 24, 2019
2:30 pm - 5:30 pm
Location
Second Beat Improv Theater
Categories
Book Now
Bookings are closed for this event.